Going BYOD Infographic by Online Colleges
Fresh from our article earlier this week on the same subject Bring Your Own Device (BYOD) in Schools – Considerations, here is a useful infographic we found created by the lovely people at Online Colleges.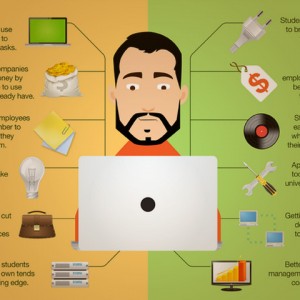 It is based on data from both schools and companies and it gives an insight into why organisations go with BYOD, the funding model for BYOD, the organisations who have already adopted BYOD and results from a study carried out in 2011 on companies' views on BYOD.
The final part of the infographics, as seen on the thumbnail to the right shows the Pros and Cons of BYOD.
We have chosen here to highlight some of the key points mentioned particularly those related to education.
Why BYOD?
Schools should go with BYOD because:
Cost of hardware – Overall cost of ownership is high. Maintaining and updating technology is an expensive business. With the fast pace at which technology is evolving, the product life cycle of devices is getting shorter and shorter. This means school's investment in technology is only guaranteed for a short term.
Budget – Schools have limited and restricted budget. Most schools are under resource and pouring money into technology may be the last thing on their mind.
Technology can enhance learning – On a positive note, there is plenty of evidence that technology does in fact enhance learning, provide for better equipped and prepared students leaving for further education or work places with better career prospects.
Students already have access to technology at home – Most students already own a computer (or laptop), have access to tablet and other Internet-enabled mobile devices at home. They are also more familiar with their own devices and therefore can to make better use of it.
Schools Are Already Half Way There
In a survey carried out in 2011, it is shown that majority of students (18+) already have their own devices. 85% have smartphones, 52% have laptop computers and 59% have their own desktop computers. Around 19% of the students have their own tablets and this is set to rise as more and more affordable tablets come into the market.
So, here's the thing, to sell the idea for BYOD in your school, start by carrying out a similar survey. You will probably find yourself in a similar situation with most students already owning the necessary devices for BYOD.
Doing BYOD already?
If you already run a BYOD scheme in your school, do share with us your thoughts, lessons and experiences.
Presented By: OnlineColleges.net
Sources quoted on Infographics: TheTimesTribune.com phoenix.edu TheAtlantic.com The21stCenturyPrincipal.blogspot.com pewresearch.org cisco.com arubanetworks.com computerweekly.com dailymotion.com serviceangle.com media.www1.good.com campustechnology.com technology-digital.com federalnewsradio.com mashable.com technologyreview.com pbsd.k12.pa.us thejournal.com wfschools.org marlboro.k12.nj.us
Infographics Provided by: www.onlinecolleges.net
Author: Samuel J. Tan
To make sure you continue to receive interesting exciting articles at the forefront of learning with technology, remember subscribe to our updates below and follow @ColorMyLearning on Twitter and Like us on Facebook.
You will benefit from a newsletter updates straight to your mailbox from ColourMyLearning on the use of Technology for Teaching and Learning.
Don't forget to rate this article