Fresh from my upgrade to Windows 8 Pro from Windows 7 Pro (64bit), taking advantage of Microsoft's time limited offer via online download, I found a Windows.old folder in the system root. So how can I delete the folder safely and free up some 20GB of space (or more)? Here are some steps to do just that.
The Windows.old folder contains files from the previous Windows installation. These files and sub-folders may conflict with the current installation, hence during the upgrade, the folder was renamed.
This is also the folder where one would find user data for 'all users' that they may wish to back up before deleting the entire folder.
While user data should have been migrated during the upgrade if the option to retain data and settings (and application) was selected during the upgrade, user data still exists in the old folder structure.
To perform a backup of the user data files prior to deletion on the folder, simply browse to, drag and drop the files and folders to an external storage or flash drive. You are now ready to delete the old installation folder.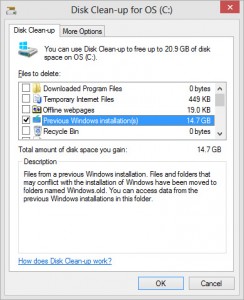 How to Delete the Windows.old Folder Safely?
To Delete the old system files, use the following steps:
Use the following shortcut Windows Key + E
Click on 'Computer' from the left sidebar
Under 'Hard Disk Drives' on the main pane, right click on system drive usually C: and choose Properties
On the 'General' Tab click the 'Disk Clean-up' button
Click 'Clean up system files'
From the list of 'Files to delete' tick the check box 'Previous Windows Installation(s)'  then 'OK'
In the confirmation window, click 'Delete Files' to proceed.
Disk clean-up process will commence.
So there you are, quick and easy steps to remove the old installation folder safely. Have you found any problems deleting the folder manually? Are they any repercussions in deleting the folder other than using the Disk Clean-up option. Let us know your experience in dealing with the old installation folder.
Author: Samuel J. Tan
To make sure you continue to receive interesting exciting articles at the forefront of learning with technology, remember subscribe to our updates and follow @ColorMyLearning on Twitter and Like us on Facebook.
You will benefit from a newsletter updates straight to your mailbox from ColourMyLearning on the use of Technology for Teaching and Learning.
Don't forget to rate this article