Many schools are looking to implement Bring Your Own Devices (BYOD) to give students and staff access to personal devices such as laptops, tablets and smartphones in classrooms. As technology becomes more and more affordable, students will undoubtedly have access to internet enabled devices at home for learning. However, due to schools budget constraints, the same cannot be said when they are in school. This causes a disparity in how they access information. So how do we address this inconsistency?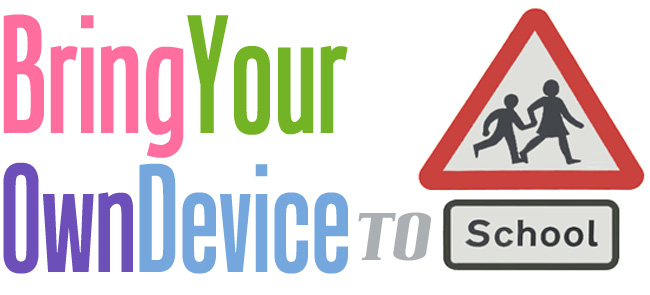 Technology never stands still and it is becoming increasingly hard for schools to keep up, especially on a limited budget. With the greater push towards 1-to-1 access, schools will need even bigger capital budgets and considerable financial means of sustaining the cost of technology for teaching and learning. This is where a Bring Your Own Device (BYOD) scheme becomes appealing, especially when most students already have their own devices.
28 things you need to consider when implementing BYOD in schools
So, what would a school need to consider when implementing BYOD? We list here 28 considerations in three main categories, split in to a) the planning stage, b) implementation strategies and finally c) on-going considerations.
Planning Stage
The planning stage for a scheme such as BYOD is especially key in ensuring the agreement and support of all parties involved. A well-thought out planning stage would certainly go some way in removing frustration and opposition in the implementation phases. So here are the most important considerations as you set out to implement a BYOD scheme.
Communication: Start conversations with all stake holders; governors, parents, teachers, students and identify the strengths and weaknesses of BYOD. Obtain feedback, but more importantly be willing to listen to ideas and suggestions and be prepared to answer queries and questions honestly and directly.
Funding/Finance: As with all tech-related proposals, the funding and finance can make or break a scheme. Some important questions to consider are: What are the options for the funding of these devices? Would it be wholly funded by parents, partly funded by parents or wholly funded by parents with an opt-out? The latter is a combination of wholly funded or part funded by parents based on co-contribution. If a part fund model is used, ownership of the device at the end of the product's life cycle must be outlined prior to agreement. Would the school consider leasing or hire purchase?
Equality of Access: Some thought will also need to be given to this and consideration given to the costs involved. Schools may have to consider provision for students where parents have opted-out. This may include loan devices for class and/or home use. This is in line with equal access for all students.
Technology Choice: With the vast array of devices available in the market place. It is also very important to provide a clear definition of devices allowed on the network. This encompasses the type of devices, operating systems, recommended specifications, additional software including Internet security and antivirus protection. Defining the minimum specifications for student devices be it laptop or tablets will mean that the devices should have similar capabilities allowing them to access learning content in the same or at least very similar ways.
Licensing: Managing software licenses will be necessary for essential applications. This will allow students to access these applications under the school's site license or available to purchase at educational pricing, taking advantage of the school's bulk purchase discounts
Policy: It will be important to have an Acceptable Use Policy (AUP), communicated to and signed by Students year on year. These policies should outline consequences for not adhering to policy, issues with cyber-bullying, posting of inappropriate materials/comments and other e-safety considerations.
Data and Child Protection, Significant consideration will also need to be given to this. Among the students, there will be a need to provide awareness on eSafety, stop sharing of personal information over the Internet, prohibit transmission of photos or videos of other children on campus. Where necessary, some thought will also need to be given to web-filtering, see point 15.
End User Agreement: Students and Staff should also sign a "User Agreement" giving school the right to inspect the personal devices if there are reasons to believe that he or she has violated the AUP or other rules and restrictions.
Support and Servicing: Where hardware is purchased from retailers, these are usually covered under manufacturer's warranty for up to a year. Some retailers offer additional cover and support for a fee. It is recommended that such covers be taken for up to 3 years at least, which should be sufficient for the life of the device.
Insurance: Recommend that students and parents purchase the necessary insurance cover to protect their investment and consider insuring against theft and accidental damage and to make sure that where possible, devices are listed in the cover.
Implementation Strategies
While many of the items mentioned in the planning stage will undoubtedly spill over to make up part of the implementation strategy, below are some further points which will also need consideration at the next stage of the process.
Access Control: It is important that only authorised devices are allowed on the network. These ideally will need to be vetted by the School's IT department and approved based on a pre-determined criteria (see point 4 above)
End Point Security: For security of the school's IT network it would be logical to make compulsory, Antivirus and Internet security programs and perhaps offer these at reduced rate to students
Invest in Infrastructure: A sufficiently robust infrastructure will be required to support the increase in number of devices and traffic
Internet Bandwidth: With more devices constantly connected and accessing the Web at the same time, consider increasing the Internet bandwidth by looking at the packages and options available from ISPs.
Web Filtering & Caching: A secure and filtered Internet gateway ensures that students have access to only appropriate resources on the Internet. A well-managed web filter allows the school to control the use of bandwidth and to stop bandwidth hogging activities such as file sharing and large file downloads. Local web caching appliances when deployed reduces Internet traffic through pre-fetch and storing of frequently accessed images and files.
On-going Considerations
Once a BYOD scheme is implemented and running, there will be some on-going considerations to ensure the scheme continues to run optimally.
Personal Safety: Students need to be told and reminded to take special precautions when in public areas and to keep devices such as tablets and smartphones or any valuables for that matter, out of sight to avoid snatch thieves and other opportunists.
Spare Devices: Schools that do run a BYOD scheme will also need to consider loan units for those who cannot afford devices, those who opt out or those who have forgotten their device.
Start Out Right: Teachers and school staff should not be required to troubleshoot technical problems in the classroom. Although there will inevitably be instances in which this happens, it should not occur on a frequent enough basis that it disrupts the class. A strong technical support person or team will be necessary to ensure the smooth functioning of all technology in school.
Guidelines: Schools will need to provide step-by-step guidelines on connecting own devices to the Internet through the school network.
Awareness: Raising an awareness of eSafety and cyber bullying is important to ensure that everyone starts off right. In addition the the Policies and User Agreements (mentioned in 6 and 8), campaigns on E-safety and How to Behave Online would help reinforce these messages.
Turn off personal mobile broadband in school: Although potentially difficult to police, other form of access to the Internet would circumvent the in-house Web Filter. Personal WiFi or mobile broadband (3G and 4G) means that students have unrestricted and unfiltered access to the Web. This should be prohibited and potential made a part of the Policy and User Agreements.
Training & Professional Development: It is imperative to provide training for teachers in the use of technology in teaching. Appointing technically proficient teachers as facilitators to help train others and share knowledge and good practise, would help keep costs down. It's easy to switch on and use a device in class but to teach with technology requires a different pedagogical approach (See also The Adoption Model for Technology). Teachers need to be introduced to the use of technology in classroom through training  to help them learn how they can embed technology into the curriculum.
Storage: Consideration will also need to be given to safe storage of devices, whether this be through lockable trollies, cupboards or personal lockers for students to store their devices when not in use during lunch break or PE.
Ground Rules: Define offline times, or when devices are not required as well as when and where they can be used. Teachers can structure their lessons in such a way that there is a block of time when devices need to be switched off or put on sleep mode. If smartphones are allowed, ringers need to be silent and no calls to be taken during school hours.
Resources: Key to harnessing technology within the education sphere is the provision of online learning resources, whether this is created in house, bought in, or resourced from the web. Moving towards the use of web based application and services that are compatible across the different devices and moving away from locally installed applications, which may be OS specific, will allow all students regardless of device types access to the resources and content.
Plug points to charge device: Mobile devices such as tablets and ultra books are designed for all day computing and therefore should not require charging if students charge them at night. However, there may be occasions when students forget to charge their device or after prolonged use will require charging. Adequate and properly sited plug points will allow students to charge their device safely.
Ownership and Care: There is typically a certain lack of care for school property, particularly if it is provided for free. By running a BYOD scheme, the onus of responsibility and care lies with each student to ensure that the device is fit for use. It will help however to provide information on care for devices on the school's intranet or in print.
Learning Platform & Apps: Although this is by no means a crucial element of BYOD, do consider implementing a Learning Platform or Virtual Learning Environment(VLE) if the school has not done so. The Learning Platform or VLE will act as a sort of glue that allows the different mobile devices to work on a common web based platform. Make sure that the Learning Platform complies with web standards and does not require proprietary plugins. Schools may also consider developing in-house Apps to access the learning platform or learning content, making it even more accessible.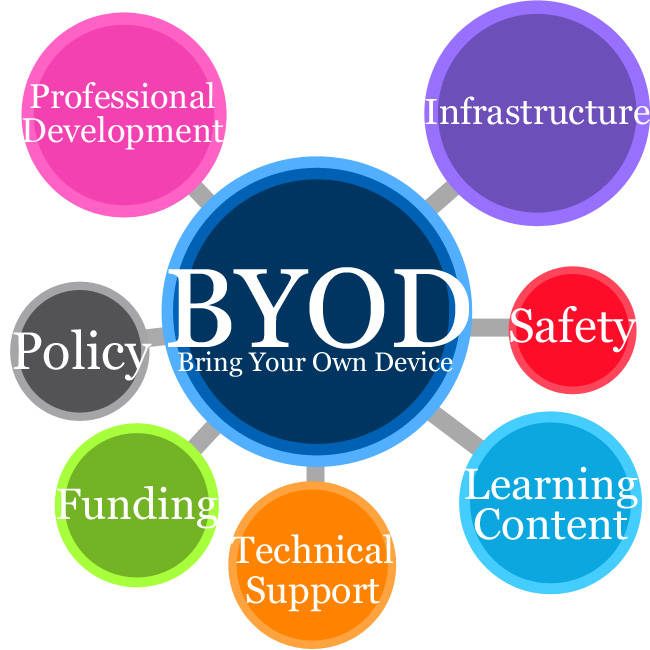 Final Thoughts
We have worked with schools on their successful one to one (1:1) access programmes now moving from laptop and netbook to one iPad per student. The success of which is not only attributed to strategy and planning on the school's part but  also to the parents participation and willingness to contribute to the cost of ownership and support.
Similar to BYOD, with the parents paying for their child's devices including the support of it, the advantage of such a scheme is that the school will have more control over the type of device to go for. This includes the operating system, software licenses, security , insurance cover, and the necessary support arrangements.
A unified device type also means ease of training for both staff and students. Teachers can share tips and best paedagogical practices. Support for staff in the form of professional development is equally important to ensure that everyone is equipped with the essential skills to complete key tasks using these devices.
There must also be a great emphasis on infrastructure, typically the wireless network in the school. As these devices tend to be mobile and requires constant connection to the Internet, the wireless network needs to be robust and capable of supporting a high number of connections and bursts of activities typical of classroom teaching.
While the old model of ICT hardware in schools consisted of networked desktops pre-installed with software for the curriculum. BYOD makes the shift from conventional desktop software to applications based on the web technologies. The VLE will take center stage and teachers will develop their own digital resources for it.
There will no doubt be challenges, some you can plan for, others unforeseen as you will soon discover on-the-go.
If you are a school in the UK looking to implement a BYOD scheme, do get in touch. We are happy to share our knowledge, experience and expertise from working with schools already running such schemes.
Author: Samuel J. Tan
To make sure you continue to receive interesting exciting articles at the forefront of learning with technology, remember subscribe to our updates and follow @ColorMyLearning on Twitter and Like us on Facebook.
Related Article:
You will benefit from a newsletter updates straight to your mailbox from ColourMyLearning on the use of Technology for Teaching and Learning.
Don't forget to rate this article