Whenever I think of how the developed countries, particularly the UK and the USA got their 'knickers in a twist' over the last PISA results, with the drop in placings and so-called poor-performance of the 15-year olds in their respective countries, I also wonder how much reflective searching these 'poor performers' have done within their own systems and cultures.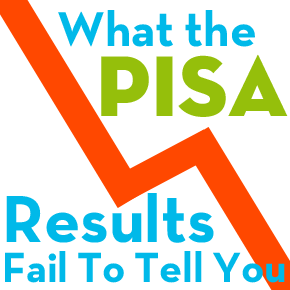 UPDATE: 
Read Our Latest Article on OECD's 2012 PISA Results: The Truth About Academic Successes in the Far East
Hardly any it seems… Since the results of the 2009 PISA were released at the end of 2010, Education Minister after Minister, news article after news article have continued to expound the fallacy of how 'The Education System has failed', how 'The Education System needs to Change', how 'We need to do better'.
I suppose what is even more interesting in the PISA results is that the assessments were of English, Maths and Science (also in English, I believe), and the top performers were not even native English language countries.
In their rush to 'change' their education systems, to produce better performers, to focus on moving up in those rankings, all these politicians have continuously looked to external sources in different countries to see how all this can be achieved. And so they start, changing the curriculum, tinkering with the objectives of learning, finding ways to improve performance and results.
What DO PISA results actually tell us?
But if we stop for a minute to question, what DO PISA results actually tell us? We might realise that it all boils down to some very basic points:
1. Excellent test-taking skills
This must be without the doubt unwritten law unto assessments. While I know that here in the UK, there has always been hue and cry over summative assessments (i.e. exams don't tell us everything, and yes I agree) but ultimately the PISA rankings are based on Standardised Tests.
An average child in these top-performing countries (apart from Finland) would have been continuously assessed, almost certainly annually if not monthly or weekly.
2. Practise makes perfect
Obviously in line with these test-taking skills, techniques which would undoubtedly have been perfected over the masses of tests and exams each child would have sat, it is no small wonder then that practise does make perfect.
3. Hard work achieves results
Ultimately though, and this is where I observe the largest discrepancies, not so much in the types of Education Systems but in the cultural and familial settings where sheer hard work and plain old school mugging does produce results.
Reflective Practise
Education policies and practices will only nurture student achievement if they result in more effective teaching and learning in the classroom. Results from PISA suggest that schools and countries where students work in a climate characterised by expectations of high performance and the will to work, good teacher-student relations, and high teacher morale tend to achieve better results, on average across countries.
– Viewing The Japanese School System Through The Prism OF PISA
The deal is though, that if the politicians stopped looking to external sources for inspiration and for one minute, do as all good educators do, and reflect on their own practises, it may actually become clear then that the answers do not necessarily lie with having to completely overhaul and change the system.
Perhaps really all that is needed to achieve these face-saving, pride-brimming rise in the PISA standings is simply to expect more of the students and to instil in them the value of actually working for a result, to teach them that anything is possible if you just work for it.
Teachers really do not need continuous changes in their goal posts, schools really should not be expected to be parent, babysitter and educator all rolled in to one. Surely nobody should expect to achieve without first striving and working for it.
The sad reality is, while politicians continue to tinker with the systems, and so-called experts called in to advise on the best way to achieve academic success for the masses, everyone seems to have forgotten that no one has actually told the students what is expected of them.
And surely that must be the most important part of all.
PISA Lessons
Less known and even less publicised by the politicians are a series of small publications that (following the last PISA results), have been produced as Lessons for the different countries who would have liked to achieve better.
They do make really interesting reading. The report for the USA in particular has invested a significant amount of time, energy and resources to analysing the successes and failures of the top ranking countries in a hope to learn and ultimately design a framework within which students within the USA will ultimately "Race to the Top".
This detailed and extensively researched 256 page document initially details the performance of the USA itself and then subsequently studies each of these countries in turn to look at what the contributors to their success in the PISA study. It also puts in to context several factors among them immigrant students, socio-economic issues, cultural and traditionally held ideas on education and learning.
PISA 2012
As PISA goes through it's current round of surveys and evaluations, for reports that will be published at the end of next year, it will only be a matter of time before we find out how well these lessons have been learnt.
What is PISA?
Watch The Programme for Internet Student Assessment's Video

Resources
DISCLAIMER: I do not think that the PISA rankings are a definitive measure of how 'good' a countries education system is. Rather much of these countries success point to an inherent cultural desire for education to be the building block and indeed the answer to social mobility.
Author: Li-ling, tweets as DrOoi and is passionate about all things learning.
To make sure you continue to receive interesting exciting articles at the forefront of learning with technology, remember subscribe to our updates and follow @ColorMyLearning on Twitter and Like us on Facebook.
You will benefit from a newsletter updates straight to your mailbox from ColourMyLearning on the use of Technology for Teaching and Learning.
UPDATE: Read Our Latest Article on OECD's 2012 PISA Results: The Truth About Academic Successes in the Far East
Don't forget to rate this article