Learning to Tell the Time is a skill that we as adults often take for granted. This may be possibly because our modern lives are so driven by the clock that 'keeping an eye on the clock' or 'telling time' becomes pretty much second nature.
For young children however, the concept of the clock is a little harder to grasp. Particularly if, as we do, you live in a country in which the number of of hours of sunlight in a day varies depending on the season.
We found a number of really useful online resources to help with learning to tell the time and thought we would share them here. We hope you find them useful. Do feel free to let us know what you think or if we have missed any that you think ought to be added to the list, do leave us a comment.
Interactive Clocks
The following are a list of websites which had 'interactive' clock resources, which could be used on an Interactive Whiteboard in a classroom or a computer at home. The majority of these are flash-based so will not work on an iPad, but may be accessible on an Android-based tablet.
a) IWB (Interactive WhiteBoard) Clock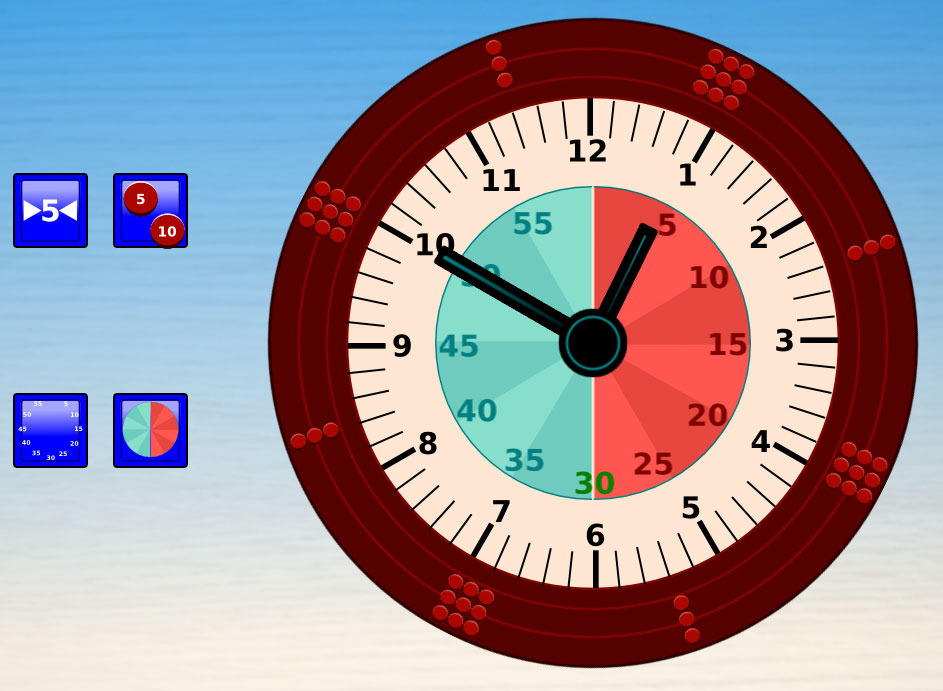 The Flash-based IWB Clock was created by Spencer Riley, a teacher based in Birmingham, UK.
The clock is simple and clear and contains 5 minute intervals clearly marked to its corresponding numbers. There are options to change the background colour and the remove the 5 minute markings.
The hands of the clock are controlled by the bevel on the outer ring of the clock.
Go to Clock here
b)  Countdown Games on InteractiveClock.com
Another Flash-based website offers some interactivity in terms of starting and stopping a countdown clock. This game is inspired by the British game show Countdown in which contestants work to form as many words from a set of random consonants and vowels.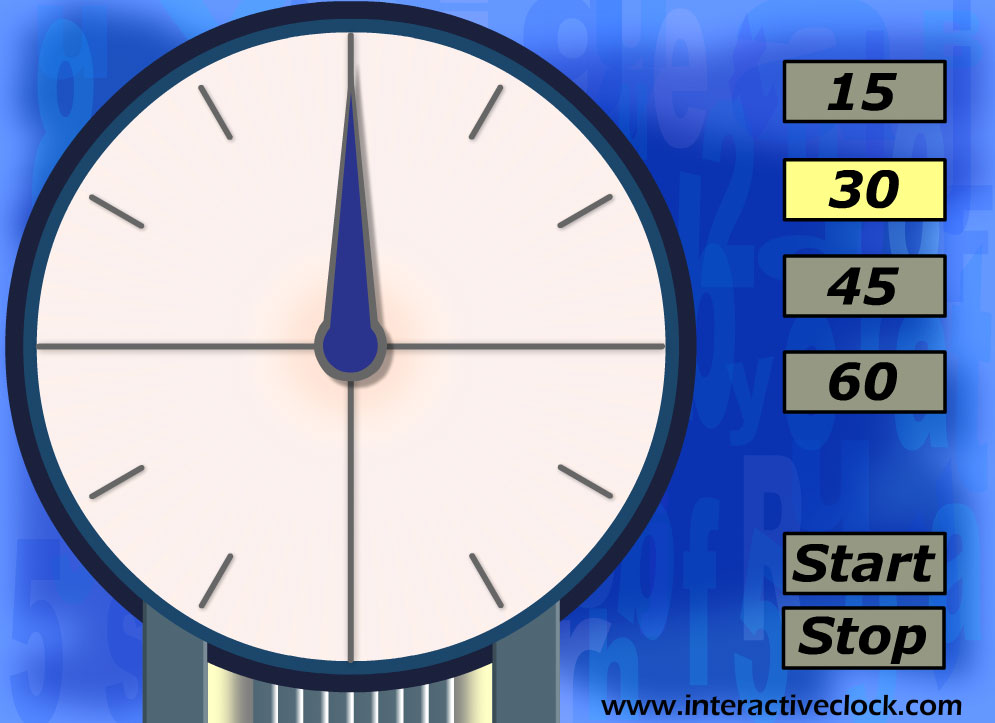 The website includes suggestion on how to use the Countdown clock for in-class games.
The Time Monsters website begins initially with a video type tutorial narrated by a cartoon character 'Professor Tempo'.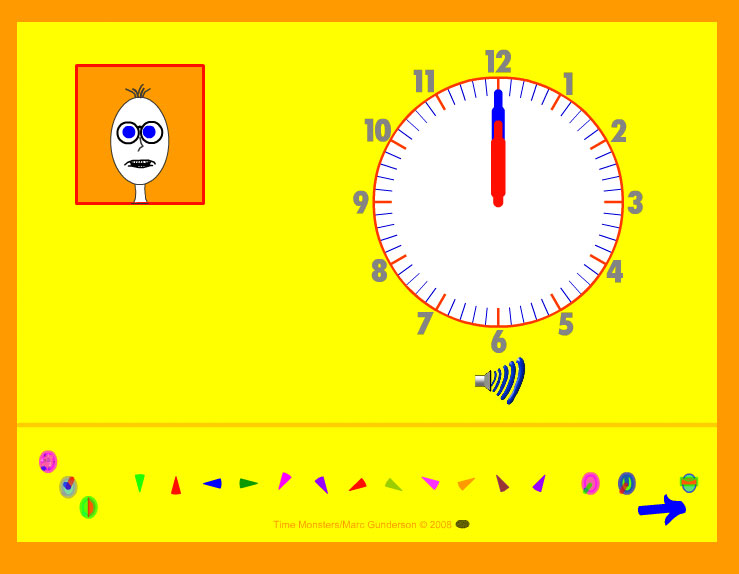 Professor Tempo offers a series of 'instructional cartoons' which work through the main concepts of time.
There is a menu at the top to work through the teaching and learning, and a series of additional exercises. While the coloured menu at the bottom of the visual to progress through the learning of the concepts of time.
This website is also Flash-based so again would best be suited to a computer or an Android-based tablet.
The teaching on this site assumes no prior knowledge so would be a useful self-teaching tool for children who are interested in independent learning.
Information-based websites
Time for time is a free website that is not very appealing graphically however offers some interesting time concepts, including a write-up on the various clocks that have been used by man, a history of time.
There are also some interesting 'calculators' for example, How Old  calculates your age in months, weeks, days etc. with the simple input of a birthdate. There's also a 'How Far Away is my Next Birthday' calculator, which would be a hit with a lot of children. The downside to this website which doesn't seem to have been updated for a while is that the birth year input starts with '19', which is a shame as it would seem like a fun thing to try with younger children.
e) Woodlands Junior School
Already an Award-winning website run by Woodlands Junior School with bespoke games created and hosted on the website. This particular page includes a collection of interactive games on telling the time.
Most of the games are Flash-based so are not accessible on the iPad but will be available on a computer or on an Android-based tablet.
Other Resources – Mainly Print
f) Enchanted Learning – a membership based website contains a host of activities with a large number of printables to help with the teaching of Time concepts. These range from seasons to calendars to days of the week and the standard clocks and digital time concepts.
e)  Blank Clock faces – for practise or for homework setting, Interactiveclock.com offers a quick an easy way to fill an A4 sheet of paper with blank clock faces.
If there are other resources that you find particularly useful that we have missed, please do let us know in the comments below.
Happy telling time!