Not so long ago, the 7-inch tablet was a pretty rare beast. Back then only Dell, Samsung and Amazon had their Streak 7, Galaxy Tab and Kindle respectively, with minimal impact on the market. However in recent times, the number of options for 7-inch devices has grown with even the large players, Google and Apple, joining in the fray.
Early versions of the Android OS, have been used by many lesser-known manufacturers on tablet devices even while it was essentially a smartphone OS. It was not until Android 3.0 code-named Honeycomb, that Google in collaboration with Motorola rolled out the first true Android-based tablet, Xoom.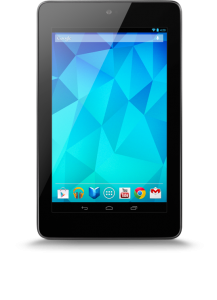 As both the market and offerings have matured, Google has been keen to stamp it's own mark on what it perceives to be the best answer to the 7-inch tablet offerings. Their answer was the Nexus 7, launched earlier this year (July 2012)
What is it?
The Nexus 7 is a 7-inch budget tablet from Google designed in collaboration with ASUS, another reputable name in the tablet world for Android Tablets such as the Transformer, Transformer Prime and Asus Pad. The Nexus brand is not new, Google has released smart phones with the same name before.
The Nexus One released back in 2010 with HTC; Nexus S with Samsung and Galaxy Nexus with Samsung were smart phones designed by Google in collaboration with the respective manufacturers.
With the release of the Nexus 7, a couple more devices, smart phone and tablet, all carrying the Nexus moniker was released. Nexus 4, a smart phone designed in collaboration with LG. Nexus 10, a 10-inch tablet designed in collaboration with Samsung.
These effectively completed the Nexus range of devices from smartphone (Nexus 4) to mini tablet (Nexus 7) to full sized tablet (Nexus 10).
Here we would like to take an in-depth look at the Nexus 7.
The difference between the Nexus 7 and other earlier Nexus devices is that it is based on Android 4.1 Jelly Bean, Google's latest Android OS that was developed with speed and a fluid interface in mind. This has since been updated to Android 4.2 Key Lime Pie with a mid-life refresh.
Previous versions of the Android have not been as smooth or as responsive compared to the Apple's iOS.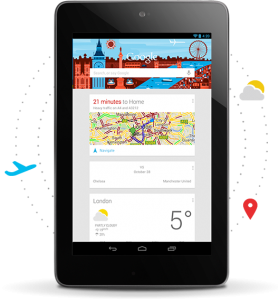 The fact that most smartphone and tablet manufacturers have gone on to add their own skin and customization has not helped and has significantly contributed to the laggy-ness of the user experience.
With Android 4.1 and now 4.2, Google aimed to dispel with all that and this is evident in the Nexus 7.
The device performed beyond all our expectations and switched between applications and screens at a blistering speed. The user interface feels butter smooth.
The Nexus 7 is powered by a quad-core Tegra 3 processor similar to those found on other high end tablets (including  Asus Transformer Pad TF300T, Sony Xperia Tablet S, Acer Iconia Tab A210), with plenty of storage, and a 7-inch 1200 x 800 High Definition touch screen.
The platform itself, is not short of Apps with plenty of pre-installed Google goodness including Maps, Gmail, Chrome, YouTube, Google Search and Google Now.
Google Now is the new Google App that fetches the latest and relevant information based on the user's online behavior, location and interest at any given time.  Need those football scores, the weather, current traffic conditions and appointment reminders? These are all conveniently displayed in a nice pull up window.
Here is a quick run down on the Specifications and highlights

Specification
CPU: nVidia(R) Tegra(R) 3 quad-core processor
OS: Android 4.2
Memory: 1GB memory
Storage: 16GB / 32GB internal storage
Connectivity: MicroUSB
Wireless: WiFi 802.11 b/g/n, Bluetooth, NFC (Android Beam)
Screen: 7″ 1280 x 800 HD display (216 ppi) Back-lit IPS display fronted by Scratch-resistant Corning (R) glass
Battery Life: up to 8 hours of active use (9 hours HD video playback, 10 hours web browsing or e-reading, 300 hours stand-by)
Camera: 1.2MP front facing
Mobile: Optional 3G broadband wireless on 32GB model
Sensors: Microphone, NFC, Accelerometer, GPS, Magnetometer, Gyroscope
Dimensions 198.5 x 120 x 10.45 mm
Weight 340g
What we like/dislike:
Pros
Fast and super smooth
Just the right size for carrying on any journey
Great built quality
Cons
Lack of rear facing camera
No memory expansion slot (microSD) and no HDMI output
Few apps utilises the screen ratio and resolution (this will surely improve over time)
Final thoughts
With the right Apps and contents, this is definitely the Tablet for Education. The price point is already a winner for schools on a budget and with Google's move in offering even more storage by refreshing their Nexus 7 line by upgrading from 8GB to 16GB and 16GB to 32GB, users will be getting even more storage for their money. With the refresh, Google has also introduced a Nexus 7 32GB with WiFi + 3G wireless.
The bigger storage and 3G broadband has always been a premium. For example if you compare the 16GB iPad with the 32GB iPad and 64GB iPad + 3G, you will note that the price jumps dramatically. Google's move to corner the 7-inch market segment with Nexus 7 16GB, 32GB and 32GB+3G was timed around the release of Apple's iPad mini. The stark difference of course is that the 16Gb Nexus is cheaper than the iPad alternative.
Our final verdict is that, if you are looking for an decent, relatively high-performance 7-inch device that will not break the bank then the Nexus 7, might just be your thing.
Are you looking to get a 7-inch device, or perhaps you already use the Nexus 7? Do share your thoughts and experiences with us.
Author: Samuel J. Tan
To make sure you continue to receive interesting exciting articles at the forefront of learning with technology, remember to subscribe to our updates.
You will benefit from a newsletter updates straight to your mailbox from ColourMyLearning on the use of Technology for Teaching and Learning.
Don't forget to rate this article