The Kindle Paperwhite was announced in early October 2012 and started shipping on the 25 October in the UK. This latest release by Amazon is proving to be the next stage of evolution for e-book readers or e-readers, as they are sometimes known.
The traditional e-book reader is based on e-ink displays. These digital ink screens are usually hard to read in low lighting conditions.  Typically these type of displays sport a grey background similar to those found on digital watches. Users put up with this visual disadvantage (which is actually akin to reading a cheap paperback book), and compensate for this by simply switch on the reading light. Obviously the other benefits of e-readers far outweigh this rather niggly disadvantage, but all that is changing!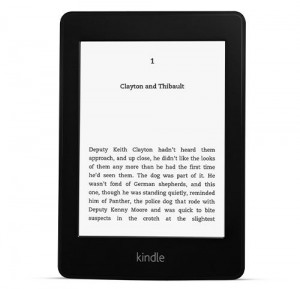 As more and more people were getting used to reading on backlit screens, common on smartphones and tablets, it was pretty clear that the next step of evolution for manufacturers of e-readers would be to come up with a similar screen while keeping both the costs and power consumption low.
Name: Kindle Paperwhite
Manufacturer: Amazon
Link: Kindle Paperwhite, Kindle Paperwhite 3G
What does it do:
Now enter the Kindle Paperwhite, an e-book reader from Amazon with a backlit screen suitable for reading in all lighting conditions. The backlit screen does not display colour but produces a near white background that is found on most tablets giving the text on the screen the contrast it needs to stand out. The screen resolution is also higher, with 62% more pixels making the text sharper and its edges smoother. Other than the screen, the specifications are pretty standard compared to its predecessor, the Kindle Touch.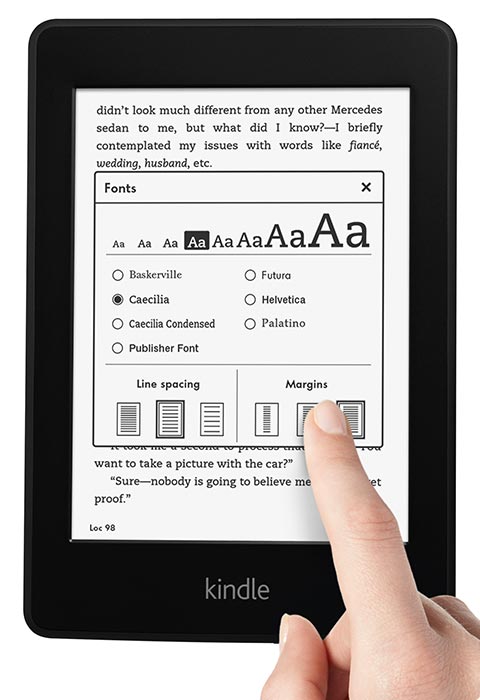 Here is a quick run down on the  Kindle Paperwhite's specifications and highlights:
Touchscreen
Built-in light (patented technology that allows light to illuminate the screen evenly)
8-weeks battery life*
Higher Resolution 212PPI (compared to 167PPI on the standard Kindle)
WiFi or WiFi + 3G
2GB for approximately 1100 e-books and Amazon's cloud storage for purchased books
Format supported: Kindle Format 8 (AZW3), Kindle (AZW), TXT, PDF, unprotected MOBI, PRC natively
Dimensions: 169 mm x 117 mm 91mm
Weight: 213g (WiFI) 222g (WiFi+3G)
*the 8 weeks battery life is based on 30 minutes reading per day with wireless off and brightness set to 10. Real battery life will vary with usage time and frequency, WiFi and brightness.
With the launch of Kindle Whitepaper, Amazon retired it's predecessor, the Kindle Touch leaving only previous generation Kindle (with 5 way control button) and Kindle Keyboard 3G in its e-reader line up. This is not welcome news for those who have just acquired their Kindle Touch.
We saw this with the iPad3 and iPad4, where Apple retired the iPad3 just months after its release with the launch of the new iPad4. Quite simply, buyers would not like to see the life span of their newly acquire device cut short within months or days with the introduction of new devices.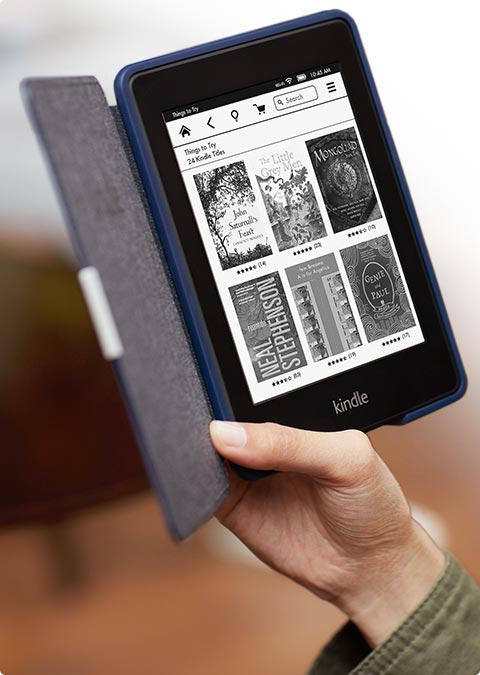 While non-kindle e-readers support a variety of e-book formats from a variety of e-stores and are able to read e-books loaned from the local library, Amazon Kindle on the other hand, due to its proprietary nature will only read e-books in Kindle format and a handful of standing document types.
This could sway potential buyers' decision from buying a Kindle and instead invest in a non-kindle e-reader just to be able to read e-books from from their local library or ones purchased from different e-book stores.
Amazon's own answer to that is to introduces the Kindle Owner's Lending Library that allows Amazon Prime members, access to a growing library of over 200,000 books and to borrow one book per month for free with no due date.
Amazon Prime is a paid membership for those who want a premium delivery service for their purchases from the Amazon website. Where items are fulfilled by Amazon, these are available to members on free one-day delivery. The free book loan simply becomes a value add (not quite free or comparable to e-books checked out from online libraries).
What we like / dislike:
Pros
usual Amazon build quality
still easy on the battery and lasting for 8 weeks with backlit switched on
Amazon Prime fee paying members access Kindle Owners' Lending Library
Cons
reads only proprietary kindle format ebooks from Amazon
Kindle Owners' Lending Library is not free but exclusive to fee paying Amazon Prime members
no memory expansion slot that will take memory cards to carry those extra books
Amazon's move will no doubt trigger a wave of similar, backlit e-readers that will flood the market in time for the holiday season, but how will it compare with devices from Kobo and Barnes and Noble's Nook. Check back soon for more updates. Amazon Kindle Paperwhite is available from Amazon.
If you enjoyed this article, do consider signing up for ColourMyLearning updates, so you won't miss another one.
You will benefit from a newsletter updates straight to your mailbox from ColourMyLearning on the use of Technology for Teaching and Learning.