Product: 8-Port Desktop Gigabit Media Switch
Model: GS-108S
Manufacturer: ZyXEL Communications Corporation
We recently ran out of ports on our Draytek Wireless ADSL Broadband Router, that in all fairness had only 4 ports (3 x Megabit and 1 Gigabit port).
This was due to the increasing number of hardware that required a wired connection (yes you will be surprised that there are still a fair amount that do). It was all right when we just had a Network Attached Storage (NAS) – our dedicated file storage, backup and media server , the XBOX and the Sonos Bridge for the network sound system.
However, with the addition of the Samsung HD Smart LED TV monitor and Samsung Blu-ray Home Entertainment System with Smart Hub, we decided to dedicate our fourth and final network connection to the Blu-ray Home Entertainment System (Smart Hub is Samsung's Internet Connected Media Center).
At this point we thought we would never need another network port. All our other devices such as laptops, tablets and smartphones including peripherals such as printers and scanners work on the wireless network.
This worked fine until we decided it was time to add another server to the network and that was when it all fell apart. Initially, we thought we could swap connections after all we actually  could not use the XBOX and the Blu-ray Home Entertainment System at the same time (connected to the same TV monitor) so this was what we did. It did not take long though, before we got utterly sick of swapping cables.
We did some research online and had a look at options for a small switch. We did not want to spend too much money, but after having a look at all the options available, it was clear that the cost difference between 5 ports and 8 ports or Fast Ethernet (100Mbs) and Gigabit Ethernet (1000Mbps) insignificant.
Manufacturers such as Tenda, TP-Link, ZyXEL, Asus, Edimax, D-link, Netgear and Belkin offer 5-port or 8-port 10/100 switches. Also available but cost slightly more are 5-port Gigabit switches and 8-port Gigabit switches.
With this general idea in mind, we decided to go for the highest specification of a desktop switch. Naturally that meant an 8-port Gigabit switch.
While we understood all desktop switches to be unmanaged switches, i.e. simple plug and play devices that work out of the box, we found one that offered more than just the standard features.
ZyXEL GS-108S 8-Port Desktop Gigabit Media Switch
In the end we decided to go for ZyXEL GS-108S, this switch that stood out for the following reasons.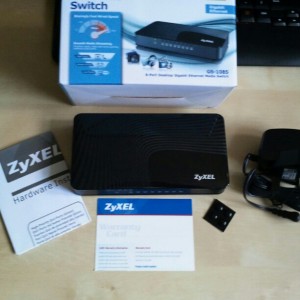 Design & Features
Small, palm size, compact, piano-black box measuring only 152 (W) x 80 (D) x 32 (H) mm and weighing only 150grams. The features include a 16Gbps non-blocking switching fabric, auto-sensing between 10/100/1000 Mbps based on connected device and a series of LED lights for power and activity indicator on the front panel.
Port based Quality of Service (QoS)
Of the 8 ports, two are designated high-priority, two for medium-priority and the rest of the 4 ports for low priority traffic. The idea is that by prioritizing the ports, different devices depending on its applications can be connected and be given the correct level of service or priority to ensure smooth delivery of data. These ports are also colour coded with High-Priority marked green, Medium-Priority marked yellow and Low-Priority ports marked gray.
Not just a Switch but a Media Switch
With the prioritized ports, users will be able to decide which device to be given high, medium or low priority. For smooth streaming of media, video and audio to, say, the Smart TV or IP Telephone, these time sensitive data streams can be sent over the High-Priority ports. This helps avoid the dreaded 'loading', 'caching' or 'buffering' screen and long wait time.
On the other hand, devices that stream data (both audio and video) or transfer files over the local network (such as file server) can use the Medium-Priority ports. Examples of devices that connect to these ports are, media players, game consoles, Network Attached Storage (NAS) and workstations.
Finally, the Low-Priority ports are used for applications that are not time sensitive such as browsing the web, checking e-mail and connecting to the broadband modem or wireless router. From the wireless router, devices such as the tablet, smartphones, laptops and wireless appliances (network sound system and printers) would  then be connected.
Green Switch
The third and last key differentiator for the ZyXEL was its environmentally friendly technology. The device actually consumes only 4.49 watt maximum, with clever green features that detect cable lengths thereby adjusting power usage accordingly for each port. The switch also detects the link status and powers down the port when it is inactive to save energy. Overall, these features reduce the power consumption of the switch without sacrificing the performance and functionality on the network.
What we Like or Dislike
Pros:
to be able to decide which device to be higher priority to avoid lag
good build quality and inexpensive
the green feature is a plus
Cons:
LED indicators are only for activity and does not indicate the speed of connected device i.e. 100/1000 Mbps
QoS ports are fixed
Final Thoughts
Who would have thought that a simple task of choosing an unmanaged desktop switch could turn into a review. Well, at least we know now, that not all unmanaged, plug and play switches are made the same.
While one can get high end switches in all metal construction cases and pay over the roof prices, for everyone else who wants a little more than the usual plastic beige box and typical specifications, there is ZyXEL GS-108S 8-port Gigabit Media Switch. Are you a proud owner of a ZyXEL switch or thinking of getting one, let us know what you think?
Author: Samuel J. Tan
To make sure you continue to receive interesting exciting articles at the forefront of learning with technology, remember subscribe to our updates below and follow @ColorMyLearning on Twitter and Like us on Facebook.
You will benefit from a newsletter updates straight to your mailbox from ColourMyLearning on the use of Technology for Teaching and Learning.
Don't forget to rate the article