A cheap 10.1-inch android tablet with multi-core processor and a detachable keyboard is always good for students on a budget. All students would want the flexibility of being able to use a keyboard for taking notes during lectures and to work on those assignments in the library.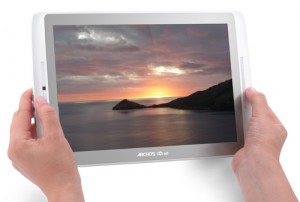 Great Value for Schools
Name: Archos 101 XS Tablet
Manufacturer: Archos
Link: www.archos.com
What does it do:
Archos is a company well-known for its portable media players. In a move to keep up with the pace of technology for mobile and internet-enabled tablets, they decided to ditch their home grown operating system in favour of the Android OS. This move paid off handsomely as they now have a portfolio of tablets that not only appeal as video and audio players but as an all round tablet.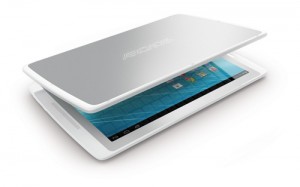 Archos 101 XS is the 10th generation tablet from Archos, based on the stock Android 4.0 Ice Cream Sandwich with an imminent upgrade to Android 4.1 Jelly Bean in Q4 2012.
This is also their fourth generation Android device, so for those who haven't heard of Archos, you can be assured that they are not newbies in the arena.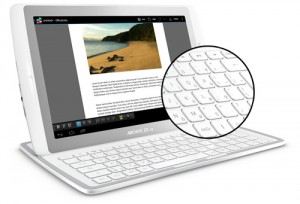 At the heart of the Archos 101 XS is a multi-core 1.5GHz OMAP 4470 CPU. A System on a Chip (SoC) that uses a dual-core ARM Cortex A9 processor plus a couple of co-processors (ARM Cortex M3) meted with a dedicated Graphics Processor Unit (GPU) in the form of PowerVR SGX544. This packs plenty of punch for a tablet, especially when running an unskinned Android OS.
The same CPU can also be found on Kindle Fire HD 8.9″, Kobo Arc, Nook HD, and Samsung Galaxy Premier.
The tablet is super slim at 8mm thin without the keyboard and 13mm with the full size QWERTY keyboard that snaps on to the front as a cover.
The cover / keyboard known as a Coverboard, (note the clever play of words) is a keyboard with magnetic edges and comes with a dock and kickstand to prop up the tablet when used together.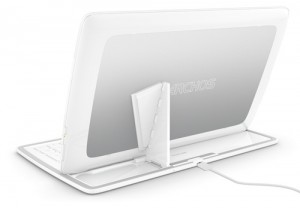 Unlike some other keyboard add-ons on the market, this chicklet-styled keyboard does not have a rechargeable battery built in. It does not add more working hours to the tablet but instead it derives its power from the tablet itself.
However, it does come with a micro USB connector, so when connected to the adapter, charges the tablet, turning it into a charging dock.
Apart from a wide selection of Google Apps that comes pre-installed on the tablet, you will also get a complete version of OfficeSuite Pro 6.
The office application suite lets you create, edit, print and share Word, Excel and PowerPoint files as well as open attachments and read PDF files. This goes nicely with the full QWERTY keyboard which also supports Android shortcuts.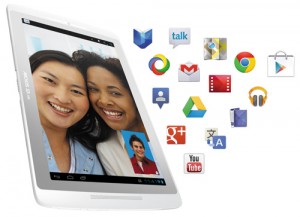 For more Apps to download for free or buy, users can visit Google Play, Google's App and Content store for apps, games, videos, music, TV shows and books.
The media department is where Archos shines, owing to it's core business of producing media devices. The tablets come pre-installed with the Archos Media Center app.
The app supports full HD video playback, including complete codec and different video formats support. Other features of the app are automatic download of jackets and meta-data support for your music and videos. A video carousel also creates a cool video library experience enhancing search tools for finding titles, series, actor, subtitle and other information.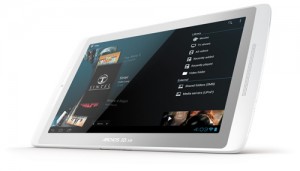 The Media Center app also supports wireless streaming of media from any computer over the home wireless network. Archos file manager allows users to access and copy files wirelessly from their file share and reading media from externally connected storage.
The Archos multimedia server app lets the user play media stored on the tablet on a DLNA compatible HDTV wirelessly. With a HDMI cable, users can also use the mini-HDMI port on the XS to connect the their HDTV and watch their movies. It's worth mentioning that the Archos Media Center app can read media directly from any USB flash or USB hard drive plugged straight to the tablet.
Specification:
1.5 GHz smart multi-core processor and 1GB of RAM
OMAP 4470 CPU with PowerVR SGX544 GPU
10.1-inch screen with 1280 x 800 resolution
16GB Flash Memory
720p front facing camera
Micro USB, MicroSD (SDXC up to 64GB), Mini HDMI
WiFi, Bluetooth 4.0
10 hours battery life browsing the Internet and 7 hours battery life playing videos
Video Playback Supported:
H.264 HD (HP@L4.2, up to 1080p@30 fps and 1080i/720p@60 fps)
MPEG-42 HD (SP/ASP@L6, up to 1080p@30 fps)
With optional plug-in: MPEG2 HD (MP/HL, 1080p@30 fps)
With the above codecs, the device can play video files with the following extensions: AVI, MP4, MOV, 3GP, MPG, PS, TS, VOB, MKV, FLV, RM, RMVB, ASF
Dimensions & Weight:
Tablet: 273 mm x 170 mm x 8mm (10.7'' x 6.7'' x 0.31'')
Coverboard: 273 mm x 170 mm x 5mm (10.7'' x 6.7'' x 0.2'')
Tablet: 600g (21 oz)
Coverboard: 200g (7 oz)
What we like / dislike:
Pros
fast processor
memory expansion up to 64GB with micro SD slot
affordable price point
Cons
poor build quality
kickback stand does not instil confidence
Final Thoughts:
With the tablet market growing at an exponential rate, it is always welcoming to see a capable and good offering such as the Archos 101 XS at such an affordable price point to keep companies such as Samsung and Asus in check. This is definitely a tablet to consider if you are in the market for a tablet complete with a detachable keyboard at no extra cost.
Author: Samuel J. Tan
Do you use the Archos or perhaps you're considering getting one? Share your thoughts and experiences with us.
To make sure you continue to receive interesting exciting articles at the forefront of learning with technology, subscribe to our updates.
You will benefit from a newsletter updates straight to your mailbox from ColourMyLearning on the use of Technology for Teaching and Learning.
Don't forget to rate this article