Redbridge College in Essex, Greater London is a college offering extra courses for students working on their GCSEs, school leavers and full-time or part-time courses for working professionals or young adults. Located between Ilford and Romford, Redbridge claims to be in the top 15% of the colleges in the UK for vocational courses.
The college offers a wide range of vocational and professional courses as well as Foundation Degrees and a Teacher Training programme to prepare students for further education and work.
What interests us in particular is the way Redbridge College have deployed a clever scheme of learning through both its 'Virtual Learning Environment' and the 'Real World Learning Environment'.
Virtual Learning Environment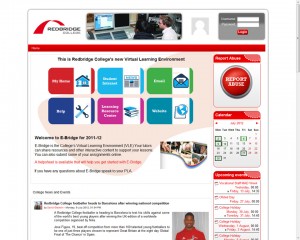 Let's start with the VLE. Based on the Open Source Moodle, the VLE is designed to be easily accessible with the front page working as a dashboard for commonly used learning tools. Known as the E-Bridge, The Dashboard on the front page shows:
Link to My Courses page for courses enrolled and to pick up Moodle Messages
Link to Student Intranet for information on Health and Safety, Equality and Diversity Policy, Additional Learning Support, Financial Support, Examination Information and Student Mentors and Enrichment
Link to School's Email
Link Learning Resources with information about Library, useful resources and e-Books
Link to College Website
While most resources are only accessible with a user account and password, a two page quick guide for its users can be found on its front page. This enables students (and staff) whom are new to the learning environment to get up to speed, to know the system and to start using it.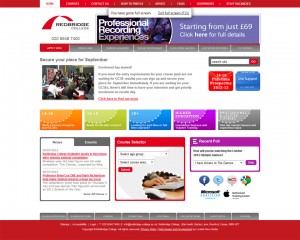 The use of buttons, images and background on VLE ties in closely with the design of the School's website which is equally impressive and striking, sporting again brightly coloured buttons and easy access to the different areas.
The site is built with its visitors in mind, especially targeted at prospective students looking for courses to study at the college.
Aside from the series of buttons, there are a couple of drop down menus under the course selector section that allows visitors a quick jump to the course of their interest.
Clever use of tabbed browsing approach means relevant information are presenting on the same page in an uncluttered fashion, and are easily accessible.
We like how the school's website also advertises for the businesses it runs where you can find information on Rouge Restaurant, Evolution Salons, Last Word Records and FX Studios right from the main page. A little more about these businesses under the 'Real World Learning Environment' section.
VLE Link: http://vle.redbridge-college.ac.uk/
Website Link: http://www.redbridge-college.ac.uk/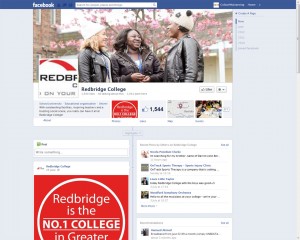 Social Savvy
Apart from the Moodle VLE, the college uses a plethora of social media tools to engage and entice the students in a big way.
First stop Facebook Page, with well over 1500 Likes, we can see how this is one of the hottest social network platform for the school.
From the timeline, one can see that the college has started on Facebook since August 2009.
It is used primarily to advertise event dates, open days and to share photographs of student taking part in events, activities, parties and other social outings.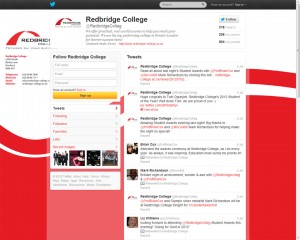 Twitter; when it comes to social media, who can ignore Twitter?
The micro blogging platform is also a favourite with Redbridge College and its students.
With well over 800 followers and tweets on celebrating successes and student activities, it is a great use of the platform to reach out to the students and the general public.
Facebook Page Link: https://www.facebook.com/pages/Redbridge-College/128581529240
Twitter Link: http://twitter.com/RedbridgeColleg
Other Social Networking Platforms & YouTube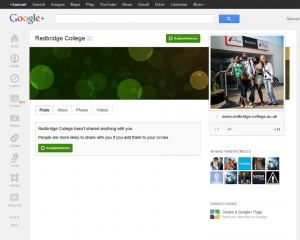 While relatively new to the College, it has also attempted to use Google+, Google's own social networking platform is designed to rival the likes of Facebook.
As the platform itself is relatively new, there is not much we can say about the success of the College's Google+ profile as there are only 11 users in the Circle at time of writing . However, we view this as another good initiative on behalf of the college to maintain it's 'Social Savvyness'.
The college has also set up an on-demand video channel on YouTube to share some of the creative work produced by students studying Creative & Media Production in the college and videos of school wide events.
With over 15,000 video views at time of writing, and interesting video content which include among others, high profile interviews, flash mobs, start search and talent shows, it provides visitors with hours of runtime.
Google+ Link: https://plus.google.com/101671674876817197175/posts
YouTube Link: http://www.youtube.com/user/RedbridgeMedia
Real World Learning Environments
There is nothing like learning on the go. The same is true of learning at Redbridge College as you will see from the Real World Learning Environments in the College.
We have a dedicated section to Learning Spaces on ColourMyLearning that features some of the most exciting physical learning spaces that are purpose built for education.
Redbridge College has taken the concept of learning spaces to a whole new level. The college facilities include real-world industry-standard environments built in. As it is a college offering Vocational courses, it makes a lot of sense to have these real-world environments to promote immersive learning.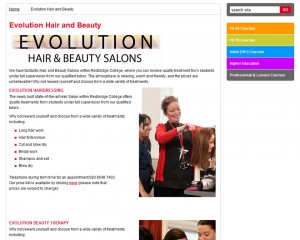 So here is a list of real world learning environments that students at Redbridge College are fortunate enough to have access to:
Career Academy with internship, mentoring, participation and training in the fields of Business and Creative & Media providing work-related training for students. Career Academy is hosted by Redbridge College in partnership with Career Academies UK.
Rouge Restaurant, not far off from 'Cafe Rouge', Rouge Restaurant is a fully-licensed award winning restaurant that opens from Monday to Friday on site offering lunch, a la carte and evening meals including special themed evenings at great value prices while the students
Evolution Hair and Beauty Salons are where you will find budding hairdressers and beauty therapists studying at the college trains in real life salons that are open both to the students and to the public.
Last Word Records is the college's very own record label. The recording studio is fully equipped with state of art industry level facilities designed to record, release and promote new acts. Their services are also available to the public from singers to musicians and bands whom are looking to record their performance professionally in the studio.
FX Studios is where the Arts and Media Students get their hands on real-life industry standard stills and digital video hardware and use of a graphic design suite. The studio is run as a media company providing its services through the college providing for clients in and outside of the college.
Apart from the facilities above, the college building in Essex comes complete with MAC Design Suites, Production Kitchen, TV Studio, Music Suite, Library and Gym. There is even a Common room equipped with football and pool tables and Nintendo Wii. Who says you can't have fun in learning?
If you work or study here, or perhaps you're considering attending Redbridge College, we would love to hear from you. Leave us a comment below.
You will benefit from a newsletter updates straight to your mailbox from ColourMyLearning on the use of Technology for Teaching and Learning.
Don't forget to rate the article.