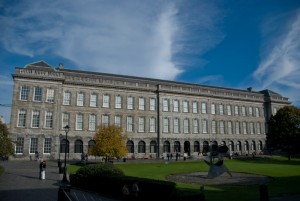 The oldest and the largest library in Dublin, Ireland is in Trinity College. Better known as the Long Room, the library houses the largest collection of books, with the legal deposit rights to every book published in the Republic of Ireland.
Trinity College founded in 1592 is also the oldest university in Dublin. When the library building was commissioned back in 1732 and designed by architect Colonel Thomas de Burgh, it was said to be modelled after the Trinity College Library in Cambridge only bigger.
This purpose built library was designed with the users and its collection of books in mind. It provides during its days as an operating library, a book treasury, reading rooms and tutorial spaces for the library's collection of books, its student population and academicians.
With the aim of preserving the vast collection of prints and protecting it from damp and mould, the Long Room was located on the first floor of the building above a colonnaded walkway well away from the ground and safe from flooding. The long sash windows allows light to flow through the reading and studying spaces and help ventilate the room.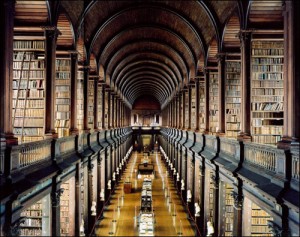 The books are arranged according to sizes and alphabetical order and placed on either side of the long room in double storey high book shelves. To maximise storage and shelf spaces. the shelves are build in rows. Between the bookshelves are the windows to provide natural light for reading.
The Long Room is also the home to ancient manuscripts, one of which is the  Book of Kells. Consisting of four volumes, the Book of Kells is located securely in the basement of the building and is put on show to the public. The book, written by Celtic Monks around the year 800 AD, is a gospel book in latin. This together with other manuscripts are now Ireland's national treasures.
If you have a chance to visit Trinity College Dublin, don't miss out on the walking tour as part of the visit to the Library and the Book of Kells exhibit. It will give you a better insight into the life of the library building and the college grounds in its days. While in the Long Room, look out for the Brian Boru hap, one of the three surviving medieval Gaelic harps, and a national symbol of Ireland.
Since then, there have been 6 other library facilities for general student use and although the Long Room and its content are designated for conservation, it is still open to visitors and is one of our favourite Learning Space.
Image Source: Wikipedia
Don't forget to Rate the Article: