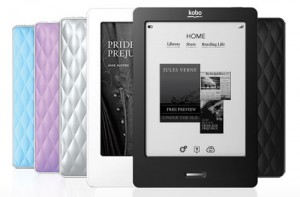 So the Kobo Touch Edition becomes an obvious choice for those looking to save money and not lose out on having the touch interface on an eReader but what else does it offer.
Kobo Touch vs Kindle Touch – How do they compare:
Here is a look at how the two eReaders compare:
Both have 6″ E Ink Pearl high contrast displays
The Kindle is slightly heavier at 213 grams, the Kobo is 185 grams (approx. 15% heavier)
Thickness, the Kindle is .1 mm thicker than the Kobo at 10.1mm and 10mm respectively
Size wise, the Kobo is slightly smaller at 114mm x x165mm while the Kindle is 120mm x 172mm
Storage wise, the Kindle takes the lead here with 4GB internal memory (3GB for user content) while the Kobo has 2GB (with 1GB for user content)
That equates to about 3000 books on the Kindle and about 1000 books on the Kobo but the Kobo has an advantage…
Expansion, the Kobo boast a micro SD Memory Card expansion slot capable of taking up to 32GB memory allowing the device to carry up to 30,000 more books. There is no expansion slot on the Kindle but they do have the cloud.
Battery Life, depending on usage, the Kindle lasts between 3 weeks (WiFi enabled) to 2 months (WiFi disabled), while the Kobo goes for 1 month (WiFi enabled). Both comes with USB cable for charging and data transfer with power adaptor available separately.
Colour: Kindle is available in one colour and that it silver, while the Kobo is available in 4 colours, Lilac, Blue, Silver and Black. In terms of design, the Kindle has no nonsense clean lines while the Kobo spots soft quilted back, a signature design for estatics and better grip.
Connectivity, once up and running both ereaders allow the user to browse and buy books online via WiFi.
So specifications aside here is what we have to say about the Kobo.
Content, Content, Content
They say content is king, and for every ereader this is no different. While we know that the Kindle has Amazon, one of the biggers book-tailer in the world and no doubt ebook-tailer but what about Kobo. The Kobo store carries over 2.4 million titles and growing and over 1 million free titles (if you need to know how to find free books follow the steps at the end of this article).
One of the criterias for choosing an eReaders is the availability of cheap and competitively priced ebooks on the bookstore. In the past, critics have lamented that offerings from the Kobo stores were more expansive than compare to rivals but it seems that they have been working hard to bring more offers and titles at 99p each.
Apart from this, the Kobo ereader also works with other ebook bookstores that support the ePub format giving you access to even more titles. Kobo has adopted an open approach where once readers have purchased their books, they have the freedom to choose and load it on any devices they own, removing any proprietary limitations.
Other ebook formats supported are PDF and MOBI. For images, the device supports JPEG, GIF, PNG, BMP and TIFF. On text formats, it reads TXT, HTML and RTF. For illustrated novels, another label for comics, the device supports the CBZ and CBR formats.
Check eBooks Out From Your Local Library
The ability to borrow ebooks from your local library is a definite plus and will appeal to a lot of readers. This means before leaving for their holiday, they can login to their library's website, choose the books they want to bring with them, check out and download them onto their eReader. The ebooks will be available on their device based on the library's loan period and will be set to automatically expire once the time is up. Please check with your library as not all libraries offer ebook loans.
How is it like to live with?
Performance wise, we found that while sweeping across the screen to flip a page is pretty nifty, there is noticable delay on the Kobo. However we soon got use to this and found that you can in fact tap on the left or right corner to achieve the same result and it seems to response quicker.
Tapping the middle of the screen brings up the options. This allows reader to bookmark, annotate, seach the dictionary, change the font type (7 types) and its size (17 sizes) and more. The screen works well both in bright daylight and indoor with sufficient lighting. There is a single home button making the frame clean and interface simple.
What else does it do?
There is also a Facebook function allowing the reader to share on their Facebook timeline the book they are reading and definitely an attractive feature to have with Facebook fans.
The Kobo also has a reward system that gives the reader "Awards for Reading" in the form of badges. Now you may say that this is a gimmick and will only appeals to younger readers but it makes the social networking feature that bit more attractive. Readers can share their Awards and reading habits on Facebook and Twitter.
We like the "Reading Stats" windows that allows readers to gain an insight into their own reading appetite in an attractive infographics format. The reader keeps track of the amount of time spent per reading session, the number of pages turned, the books read, total reading hours, percentage of contens completed in your library and more.
What if I already have an iPad or Andriod tablet?
You can get the Kobo eReader app for your iPad®, iPod® Touch or Android™ enabled phones and tablets and enjoy the books and Reading Life and Social netwoking features all the same. Kobo does an android colour reader called the Kobo Vox.
But for those eReader die hards that care not for bells and whistles an andriod device has to offer, we throughly recommend the Kobo Touch.
How to find free ebooks in three steps?
Use the search function on www.kobobooks.com
Filter the result by "Free Only" from the drop down menu
Select, download add free books to your library from the search results
Kobo Touch or Kindle Touch…
Do you have a Kobo or Kindle? We would love to hear from both sides and what you have to say about your eReader. Push your comments here.
Kobo Touch Edition Official Video

Kindle Touch Official Video

To look at what others have to say about Kindle eReader click here and for Kobo eReader click here.
by Samuel Tan
You May Also Want to Read
Don't forget to Rate the Article: