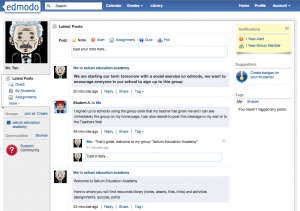 Where schools are concerned, social networking sites are synonymous with cyber bullying, social intrusion, staff abuses, sexual predators, child pedophiles, haters, racism, time waster, distraction, every negative thing imaginable, which is why most schools simply block access to these sites from their network.
Then enters, Edmodo – a social networking site for teachers and students. A collaborative platform which on first impression, does not look very different from Facebook apart from plans to change all the negative press associated with social networks in schools.
So what is edmodo?
It is a social networking platform designed for schools
It allows you to engage your students
Connect with your peers (community of teachers)
Share and store content in the cloud
and it's all free
There are also 'school and district features' that allow teachers to register their schools and obtain a unique subdomain. The features allow district-wide collaboration, methods to track and measure successes and also offers an avenue for professional development.
But what it does offer, that schools really want is:
a safe platform for students and teachers to interact, through a closed environment
the ability to engage students through a medium they are most familiar with, it even looks and feels like Facebook
provides teachers more control over postings, group discussions and sharing of content through moderation or even stop students from posting completely
students can only post messages to the group or to the teacher; limiting to the point of curbing an exchange of messages between students
better privacy controls also allow teachers to block connection requests and will only show profiles to connected students or teachers.
with better data and information handling, students and teachers need only surrender minimal information about themselves to sign up and students don't even need an email address if they don't want to supply this.
Then there are the e-learning features:
create and manage groups or classes
post and share resources such as links, images, videos, files and documents
maintain a library of resources or teaching portfolio including google docs integration
one way or restricted two way messaging with no student to student private messaging
online discussion that engages students
polls and surveys
set, post and grade assignments (with attachment) including ability to submit feedback
calendar feature that shows important dates for assignment and events
That's not all. The guys at edmodo also provide Apple iOS and Google Android compatible apps for iPhone, iPads and Android phones for free. There is even a mobile version of the site at http://m.edmodo.com for other than iOS and Android devices such as the late comer, Windows Phone 7. This makes edmodo even more accessible through multiple platforms.
Platform for Developers
Edmodo is also promoting itself as a Platform for developers to build, publish and distribute apps with a public API to be announced soon. Remember the additive FarmVille game on Facebook, let's hope developers come up with something equally addictive that will help students make better use of their study time.
Final Words
Some companies have identified the gap left by the block on social networking sites in schools and are offering their safe alternatives but at a price. Edmodo simply ticks all the boxes in terms of security and safety and yet costs nothing to start. It's simply a no brainer.
Are you already using edmodo in your school? Share with us, your experiences here.
Don't forget to rate edmodo
You will benefit from a newsletter updates straight to your mailbox from ColourMyLearning on the use of Technology for Teaching and Learning.
Don't forget to rate the article.