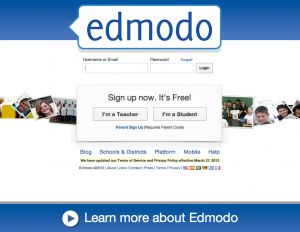 We have heard quite a few debates on the use of Social Networks in schools that mostly resulted in bans and blocks put in place to stop students from going to sites like facebook.
Then there is Edmodo, a simple, safe and secure social network designed particularly for schools, and it's free. Want to get to know edmodo and how edmodo can benefit your school? Follow these 5 simple steps to get you started.
5 Steps to Get Started on Edmodo for Teachers
1. Sign up on edmodo via "I'm a Teacher" (alternatively download the app onto your phone and tablet and do it through there)
2. Create a group, a group can be your subject based, activity based or event based. An example of a group could be Computing Level 1, History Year 7, Spelling Bee or Science Club
3. Post your first welcome message to the wall of the Group
4. Give students the group code and get them to sign up as Students
5. Start exploring other resource and activities you can post to the Group such as notes, alerts, assignments, quiz, polls.
If you are already a user of edmodo in your school. Let us know what you think?
You will benefit from a newsletter updates straight to your mailbox from ColourMyLearning on the use of Technology for Teaching and Learning.
Don't forget to rate the article.