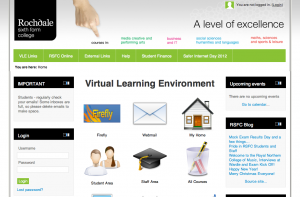 There is certainly great benefits for using VLE in schools and even more so in Sixth Form Colleges.
The use of VLE at this stage simple prepares the students for their further education and university students where VLE is a common feature.
Rochdale Sixth Form College is one of such institution that uses the VLE coupled with a healthy dose of social networking and an integrated intranet or content management platform.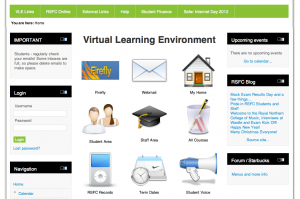 For the VLE, a black and green colour scheme is used. There is also plenty to offer on the front page of the VLE where most commonly used 'apps' such as firefly – the content management platform or intranet, access to email, my courses home page, courses, students and teachers space and other related resources.
The lime green top navigation bar stands our well and contains links to both internal and external resources. We were particularly intrigued by the link labelled Forum/Starbuck. A closer look at the forum reveals a space for menus from the cafeteria. Another clever way to use the VLE.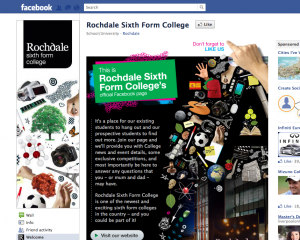 For social networking, the school operates a Facebook page and a Twitter page.
Both with custom designed graphics and page elements such as background, colour scheme and in page content that will blow any school's attempts on a social network presence away.
This solidifies their effort to reach out to students whom at the sixth form level, would rather be treated as young person complete with modern gadgetries and mobile devices and are constantly connected.
We applaud the school's effort both in keeping up with the times and taking the bold move or shall I say leaping into the social sphere.
For more screenshots of Rochdale Sixth Form College's Twitter page, website, the Forum/Starbuck area and more, see gallery below:
Don't forget to Rate the Article: